Note: If you do not find a confirmation letter after your registration you may need to check your spam box!
---
We are living at a critical time for the future of humanity and especially of the West. The global political system and the values generally agreed upon that has ruled the world for the past 75 years do not seem to have a place anymore. What underlies this change in mentality is a profound shift in consciousness. But what is really the nature of such shifts? Do we have a choice to create them? Macrocosmic Quantum Theory identifies the cosmic states of consciousness that have driven all of evolution and relates our current situation to a cosmic plan. I believe it is necessary for everyone who seeks an understanding of the future to assimilate this theory. Such an understanding may help us to take meaningful steps towards the completion of the cosmic plan through the Ninth Wave.
---
Starting February 5th, 2022 the following topics will be covered in five consecutive 1.5 hr sessions on Saturdays:
1. 02/05/22. The History of the Maya and their "calendar" system.
2. 02/12/22. Some Features of Quantum Theory. Ancient Mythological Concepts and their Modern meanings.
3. 02/19/21. The Nine Levels of Evolution: The Rise of Civilization.
4. 02/26/22. A Deeper look at the Yin/Yang-duality of the Sixth Wave: the Four Directions, the evolution of the religions and the ego.
5. 03/05/22. The Higher Waves and the Future of Humanity.
This course is directed to anyone who seeks a basic understanding of Macrocosmic Quantum Theory and a broader cosmic perspective on what is happening in the world today.
The course will be held through Zoom on five consecutive Saturdays at 9 am PST, 12 pm EST (click here for your time zone). The cost of the course is $200. Although those registered are encouraged to participate in the live sessions all sessions will be recorded for those that want to watch at a later time. Check back for next course!
---
Why did the ancient civilizations create star maps on the Earth?
Seminar Sunday 30th of January 2022 at 9.00-11.30 am PT:
Cost 40 USD.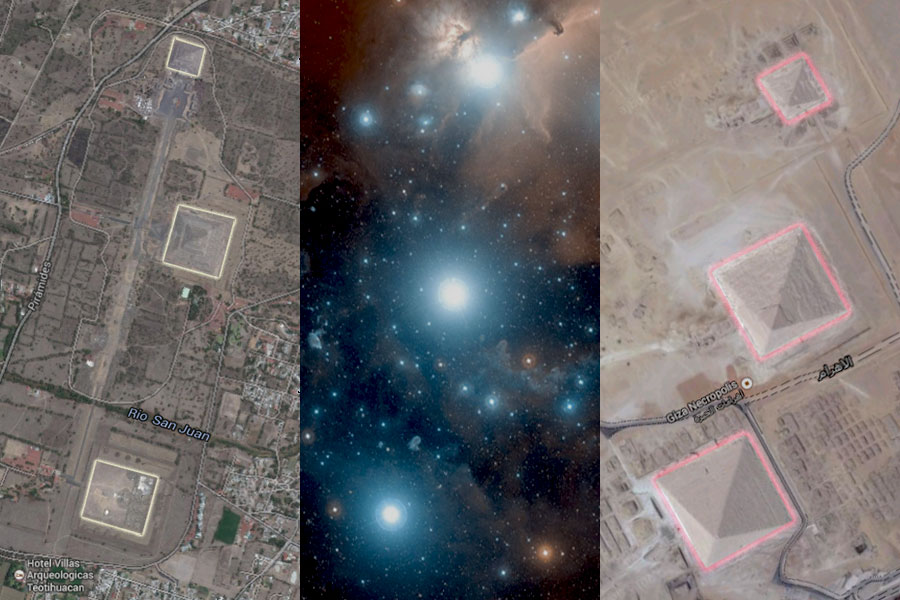 "As above-so below" is a saying which potentially refers to many different levels of existence one of which may be how the earth plane is recreated as a mirror of the heavens. While this ideal is now essentially forgotten, the ancient peoples of the Earth certainly took it very seriously. One of the expressions of this was the ambition in many different civilizations of our planet to create temple and pyramid sites that mirrored the heavens, so-called star maps. Why did this activity stop? In this seminar, based on the Mayan calendar and what this tells us about the evolution of consciousness, I will discuss not only those formed by the pyramids in Egypt and Mexico, but also some others lesser known that in certain ways present a consistent pattern that I believe can clarify our understanding of this Creation. The cost for this seminar, which will take place online Sunday 30th of January 2022 at 9.00-11.30 am PT is 40 USD. 
---
Fornnordisk och svensk historia ur ett kosmiskt medvetandeutvecklingsperspektiv
Seminarium Lördagen den 29e Januari 2022, 19.00-21.30 Svensk tid.
Kostnad 40 USD.
Förfäderna till många av dagens svenskar från bronsåldern, järnåldern och vikingatidenär knappast det som man först tänker på när människor pratar "ancient aliens" eller andra teorier för civilisationernas uppkomst. Intresset är i stället oftast fokuserat på Egypten, Maya, Stonehenge eller folk på andra långväga platser. Men i själva verket så hade dessa forntida folk mycket gemensamt även om det i skolundervisningen ingår väldigt litet som hjälper oss att förstå hur den fornnordiska kosmologin är relaterad till dessa, vilket ju också blockerar vår förståelse för våra egna historiska rötter. Under de senare åren har jag därför bland annat studerat Sverige och Norden inte bara ur ett Mayakalenderperspektiv utan också, kopplat till detta, de stjärnkartor som där projicerades på Jorden. Jag tror att jag har gjort ett viktigt genombrott där förfäderna kommer i ett nytt ljus liksom själva den Svenska nationens födelse. Det finns mer att hämta från den fornnordiska världsbilden än vad många vill tro, saker som också ger ett vidgat perspektiv på medvetandeutvecklingen och var vi befinner oss nu. Jag kommer att berätta om några av dessa nya upptäckter I ett speciellt online event (på Svenska) lördagen den 29e Januari 2022 klockan 19.00-21.30 svensk tid. Kostnad för deltagande i seminariet är 40 USD.