The Tree of Life and the Ninth Wave
Arroyo Hondo/Taos, N.M.
From 10:00 until 6:00
$220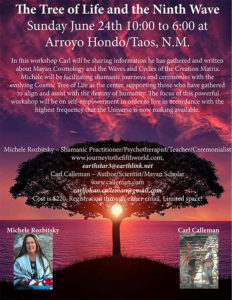 In this workshop Carl will be sharing information he has gathered and written about Mayan Cosmology and the Waves and Cycles of the Creation Matrix.
Michele will be facilitating shamanic journeys and ceremonies with the evolving Cosmic Tree of Life as the center, supporting those who have gathered to align and assist with the destiny of humanity.
The focus of this powerful workshop will be on self-empowerment in order to live in accordance with the highest frequency that the Universe is now making available.
Michele Rozbitsky – Shamanic Practitioner/Psychotherapist/Teacher/Ceremonialist www.journeytothefifthworld.com, earthstar3@earthlink.net
Carl Calleman – Author/Scientist/Mayan Scholar www.calleman.com carljohan.calleman@gmail.com
Cost is $220. Registration through either email. Limited space!